Easy Holi Recipes | Holi Sweets and Snacks
Roasted Makhana Namkeen is an easy-to-make and delicious snack.
Ingredients:
2-3 tbs A2 Cow Ghee
Makhana Nuts( almonds, cashew, walnuts pistachios, raisin)
Seeds(melon,flax,etc)
Misc(Rock salt, Chili,chaat masala, black pepper)
Method of Preparation:
Firstly, Heat 1 tbs Desi A2 cow ghee in a pan over medium heat & add 2-3 cups of makhana.

Keep stirring while roasting to avoid burning—Crispy (5-8 minutes).

Remove the roasted makhana to a large bowl and keep it aside.

Again, take 1 tbs Desi cow ghee in the same pan over medium-low heat.

Add almonds cashew, walnuts, pistachios & 3 tbs melon, and flax seeds to the pan and roast until browned (6-8 minutes).

Remove the roasted nuts and seeds into the same bowl of makhana.

Add ½ teaspoon Rock salt, ½ teaspoon black pepper powder, and ½ teaspoon chaat masala powder, chili powder if required over the roasted makhana, nuts, and seeds and toss well.

Store in an airtight container. 

Ready…Enjoy crispy Roasted Makhana Namkeen with Puro Miles Desi Cow Ghee…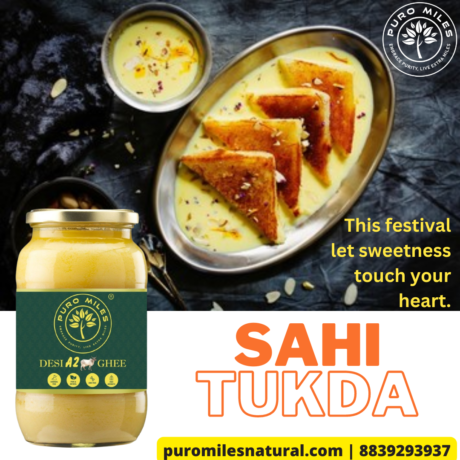 Shahi Tukda Recipe with Desi Ghee
Ingredients:
For RABRI 
1 lit full cream milk
½ cup desi A2 Cow Ghee
Desi khand(organic sugar)
1/2 tsp cardamom powder
2 tbsp saffron milk
FOR SUGAR SYRUP
½ cup organic sugar
½ cup water
FOR SERVING
6-8 Bread slices
3 tsp Desi A2 cow ghee
dry fruits (cashews, almonds, pistachios, chopped)
Method of Preparation:
Rabri Recipe:
First of all, take a large pan heat 1 liter of full cream milk, and get a boil. Stir occasionally making sure the milk doesn't stick to the bottom of the vessel.

Add 1 cup of condensed milk or milk powdered and repeat the gathering of cream to the sides of the kadai at least 3 -5 times or till milk reduces to one-third.
Then add cardamom powder and saffron milk also scrape off the collected cream from the sides and give a continuous stir.
Rabri is ready…
Now cut the sides of white bread and cut them into a triangle or Rectangular shape.

Fry all the bread slices in Puro Miles Desi Cow Ghee till the bread turns golden brown.
Now dip both sides of the bread in prepared sugar syrup( made by desi khand and water)
Also, on another plate, pour in ½ cup of prepared Rabri
At last but not least, place golden brown fried bread slices on rabri.
 Garnish with a few chopped nuts and serve delicious shahi tukda. Popular & Special Holi Food
Popular Holi Sweets and Snacks
Gujiya (Fried & Baked)
Dahi bada
Kachori
Nariyal Barfi
Paan Gulkand laddoo
Gulab jamun
Rasmalai
MalPua
Mathri
Pakore
Halwa
Fruit custard
Cake/ Muffins
Jalebi
Thandai
Lassi
Kanji
Fruit punch
Rooafja
Mocktail
Holi recipes with a twist include Thandai,Gujiya, namkeen, paan gulkand ladoo,  and many more. It is the perfect time to throw yourself into festive zeal with playful moments and loving meals.
Please comment below what is your favorite festival recipes.
Relish your favorite food this #holi with Puro Miles Food Products.    Happy Holiiiiii……