Description
Raw & Natural/Unprocessed/Unpasteurized/Chemical Free/Immunity booster/Nector from Deep forests
Puromiles brings to you Deep Forest Multi-Floral Raw Honey processed naturally by honey bees,  strained and packaged hygienically by our beekeepers, we keep our honey in its natural raw form to make it free from all kinds of adulteration and preservatives and helps to retain its natural qualities. Raw natural honey is highly nutritious and loaded with numerous medicinal properties. It is a rich source of antioxidants, pollen, enzymes, vitamins, and natural minerals. Which makes it a superfood and should not be avoided from your daily diet.
Benefits of Multi Floral Raw Honey as per Ayurveda
Myth Buster:
Pure Honey does not crystallize or solidify:
In reality, only pure honey tends to crystallize and how soon it gets solid purely depends on the kind of nectar honey bees collects from various sources, so next time when it solidifies don't assume its adulterated, its 100% natural process, to obtain its liquid state gently warm it in a bowl of water( Do not heat directly)
Pure Honey Comes in Single Unique Color and Taste: Harsh but the reality is just opposite Bees freely collect the nectar from different sources available in mother nature, hence its fragrance, color, texture, and crystallization vary with each harvest., it can never come in the same color, taste, and fragrance unless adulterated.
Alert :
As raw honey contains pollens, allergy reactions have been reported worldwide by the rare individuals who are allergic to pollens.
Don't feed raw honey to children with age less than 1 years.
How do we make honey: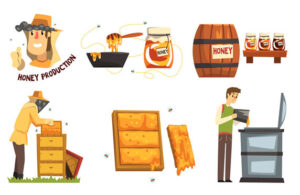 How do we know about Pure Honey?
Several methods can help you understand the purity of honey. Conscious Food provides pure Natural wild forest honey full of antioxidants and vitamins.