Know your ghee: Which is the best desi Cow Ghee for health?
When buying the best desi cow ghee you need to be more alert. There are several inferior brands, that promote their products like ghee, but they are not made from the dairy at all. You can get trapped if you don't know what to look for.
Q- Difference between A1 cow milk vs A2 Cow Milk?
ANS– A1 & A2 milk are distinguished based on protein content in milk.
A1 milk gets from a foreign breed of cow-like jersey, HF, Guernsey, etc. while A2 milk obtains from an Indian breed of cow-like Gir, kankrej, etc.
Various researches have proved that A2 cow milk is better than A1 cow milk. A2 cow milk is a high source of protein and is easily digested. While A1 protein, BCM-7 is released which causes diabetes, heart diseases even harms our digestive system.
Q- Which is healthier A1 or A2 cow ghee?
ANS– A2 cow Ghee is far better and healthier than A1 ghee. A2 Ghee is obtained from Desi Cow and made through ancient Indian from100% natural processes. That is why A2 ghee is a great source of protein, easy to digest, and helps to boost overall human health and immunity. On the other hand, A1 ghee is not suggested, it causes diabetes, heart diseases even harm our digestive system.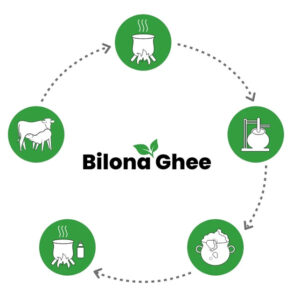 Q-What is Vedic Bilona Ghee? Why is it so costly?
ANS-Vedic Bilona Ghee is prepared with the traditional bilona churning method using a wooden beater, Bilona is used to churn out butter from the curd, and then the butter is cooked on a slow flame to make ghee.
In the Vedic bilona method, the ghee-making procedure is done with the manual churning method, and 25-30 liter milk is used to make just 1 KG of ghee manually, which makes the price of desi ghee a bit more costly than the other ghee available on the market.
Q- How can we check the purity of ghee at home?
ANS-There are many tests that can be done to test the purity of pure ghee or desi cow ghee. Some of these are Heat Test, Palm test, Double-boiler method check, Iodine test, Sugar test, HCL test, etc.
Q- What are the benefits of Ayurvedic Desi cow ghee?
ANS: Ayurvedic Desi ghee is a golden health supplement is a rich source of Vitamins, Antioxidants, Omega 3,6, and 9 fatty acids which helps to boost overall human health and immunity Improve bone density and muscle strength, and lubricate joints
Ayurvedic ghee also helps in removing dark circles, slowing aging, and enhances skin glow by direct application over skin
Ayurvedic ghee improves heart condition and overall strength and also Improves metabolism and helps in weight management
Ayurvedic ghee prevent common cough and cold and is used for nasal decongestion
If you want the pure desi ghee, highest flavor, great quality, texture, and nice aroma this  PURO MILES Ayurvedic Desi Ghee is one of the best choices. You can buy Ayurvedic desi and A2 cow ghee from a website, Amazon, Flipkart, etc
Did you find this post helpful? If you have any query please write in the comments box below.